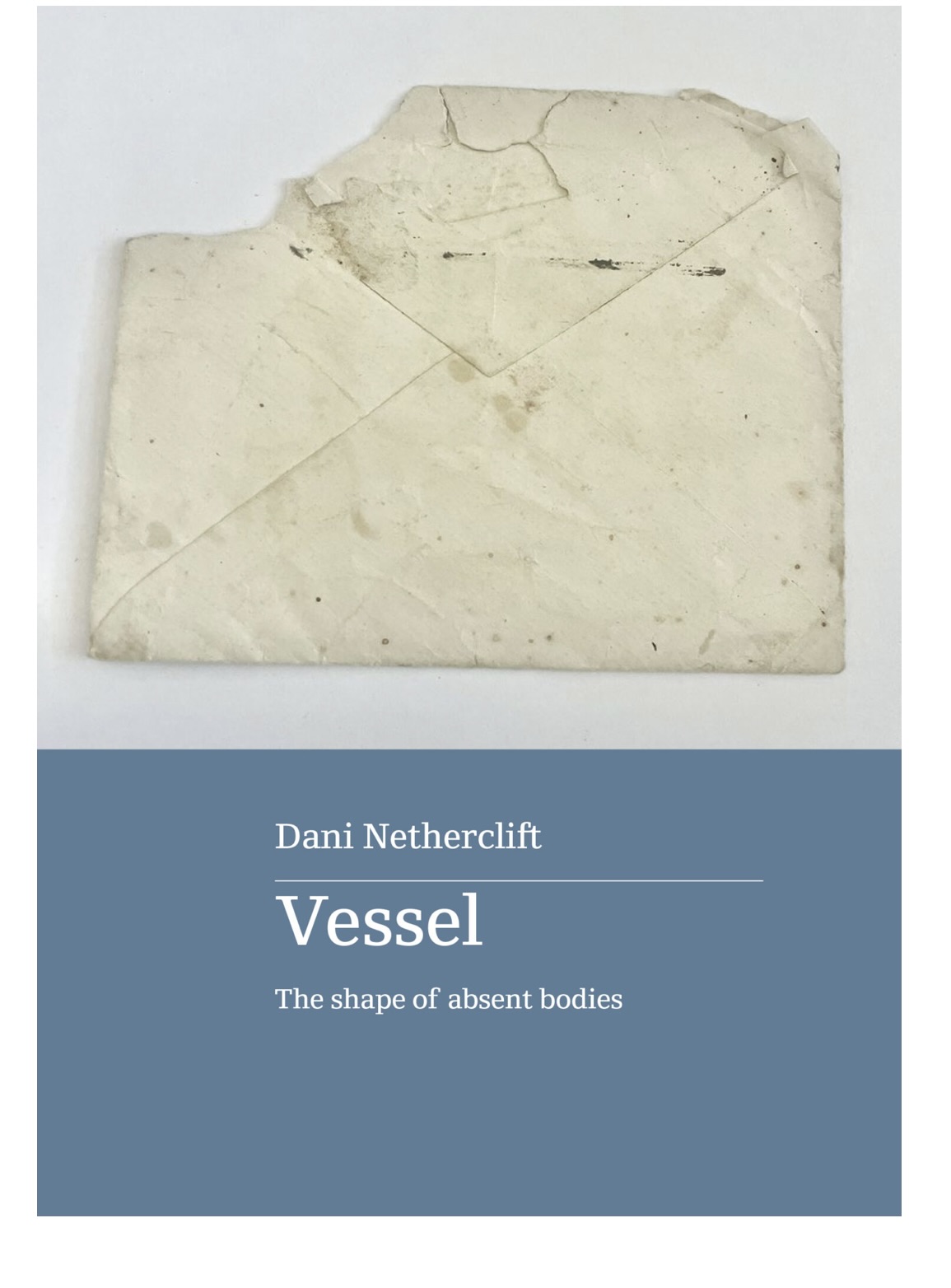 About the book:
Who would think to call Ophelia a corpse? She is but a woman emptied of herself. 
In 1993, when she was 18 years old, Dani Netherclift witnessed the drowning deaths of her father and brother in an irrigation channel in North-East Victoria. Or, she saw her father and brother disappear beneath an opaque surface and never saw these loved ones again. But also, never stopped imagining the shape of this bodily loss. Not viewing the bodies grows into a form of ambiguous loss that makes the world dangerous, making people seem liable to suddenly vanishing.
What would it have been like to have seen them, after the fact? To have looked upon their bodies. To picture the emptied vessels of her father and brother is to reach toward a sense of closure; a form of magical thinking in which goodbye is made possible. Vessel pulls together a language of space and ruin, interleaving stories of what it means to lose the physical body of a person you love with a bricolage of literature, history and (vessel) translations, and the realisation that all bodies become in the end bodies of text, beautifully written palimpsests—elegies—inked on the skins of the dead.
Released November 3, 2024
Pre-order here
The Local Word Prize 2023

'After my grandfather's death, I attend a working bee to pack up the contents of the house that he and my grandmother built in 1978. I fill a cardboard box with willow-ware teacups and saucers, my grandmother's carved wooden jewellery chest, a Victorian urn, an old chip-board clipboard, a yellow note pad, and a tall, narrow Telephone & Address Book, bound with black string which on closer inspection turns out to be a shoelace, tied into a bow.'

—From 'Telephone and Address Book'
In March 2023, my lyric essay, 'Telephone and Address Book' won Geelong Regional Libraries/Deakin University's inaugural The Local Word Prize, from a field of almost 600 entries of both fiction and nonfiction. The essay is an account of my late grandmother Veronica's distinctive address book that I inherited after the death of my grandfather. The address book is itself a tender and articulate form of life writing and elegy, and 'Telephone and Address Book' is a reading of that.
The Slow Canoe/AAWP Creative nonfiction Prize 2020

'The trees on this bone are indigo.  The willows bend and weep.'

—From Incomplete Archive of Blue.
Judges comments for Incomplete Archive of Blue, winner of the 2020 AAWP/The Slow Canoe Creative Nonfiction Prize:
—It is a beautiful fragmentary catalogue of memories — an 'incomplete archive' as the title suggests — of a period of time in the writer's past, when she lived near the sea with her partner.
From out of all the varied, affecting, hard and heartening non-fiction entries we received this year, which took us into such a range of different lives and experiences and views, we were first surprised and then whole-hearted to find ourselves in agreement that the prize should go to this domestic story. 'Incomplete Archive of Blue' mixes strikingly good nature writing with the deft capturing of particular and tender (and difficult) human interactions as they appear when seen through the distance of time. Formally, it is fascinating and alive, landing somewhere between an essay and a prose poem. Lydia Davis described fragmentary writing as feeling closer to the origins of writing, 'the closest mirroring of the writer's emotion', which is precisely how this piece reads — even while you are aware of the skill and work that has gone into creating that sense. In its focus on a small window of ordinary life, it provides exquisite insights into large and small questions of existence and it left us with several lasting images that we have returned to again and again.
Mascara and Ultimo Press Anthology, Resilience, 2022
My most recent published poetry, 'Triptych / Laments' appears in Mascara's  Resilience anthology, published by Ultimo Press, available from Ultimo Press, Mascara and bookshops. My prize-winning essay 'Incomplete archive of blue' published in the beautiful Twenties collection is available via The Slow Canoe, and both my poem, 'Extremities,' and my interview with my sister, Indigo Perry appear in Cordite: OPEN.