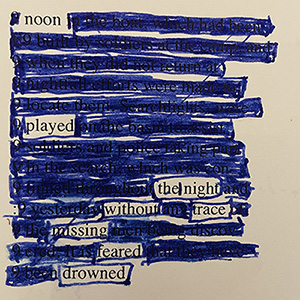 'The trees on this bone are indigo.  The willows bend and weep.'

            —From Incomplete Archive of Blue.
Judges comments for Incomplete Archive of Blue, winner of the 2020 AAWP/The Slow Canoe Creative Nonfiction Prize:
—It is a beautiful fragmentary catalogue of memories — an 'incomplete archive' as the title suggests — of a period of time in the writer's past, when she lived near the sea with her partner.
From out of all the varied, affecting, hard and heartening non-fiction entries we received this year, which took us into such a range of different lives and experiences and views, we were first surprised and then whole-hearted to find ourselves in agreement that the prize should go to this domestic story. 'Incomplete Archive of Blue' mixes strikingly good nature writing with the deft capturing of particular and tender (and difficult) human interactions as they appear when seen through the distance of time. Formally, it is fascinating and alive, landing somewhere between an essay and a prose poem. Lydia Davis described fragmentary writing as feeling closer to the origins of writing, 'the closest mirroring of the writer's emotion', which is precisely how this piece reads — even while you are aware of the skill and work that has gone into creating that sense. In its focus on a small window of ordinary life, it provides exquisite insights into large and small questions of existence and it left us with several lasting images that we have returned to again and again.
My most recent published work is a lyric essay , 'Damage reports,'in the print version of Island 164, available in selected bookshops and newsagents currently—